Our Results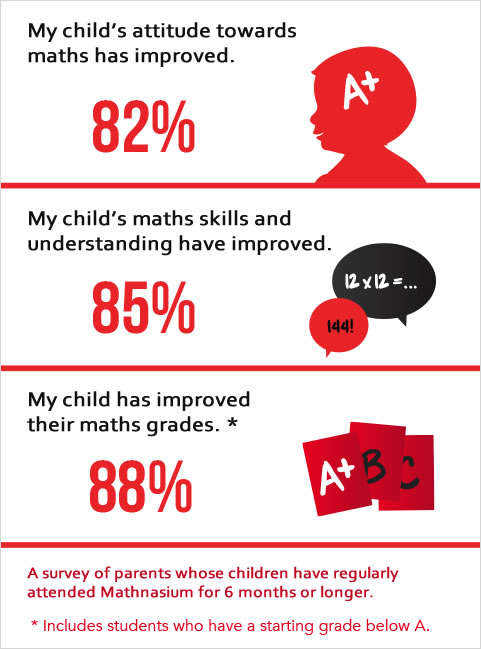 At Mathnasium, we help children understand maths by teaching the way that makes sense to them. Children who consistently attend sessions at our learning centres enjoy a transformative learning experience and make huge strides in the classroom.
Attitude: When maths makes sense, kids develop a more positive attitude toward maths.

Understanding: Mathnasium teaches for understanding, giving students the ability to succeed in any maths environment. As Larry Martinek, Mathnasium's Chief Instructional Officer notes, "It's pretty easy to forget things you memorise and near impossible to forget things you understand."

School Progress: When children learn maths in a way that they truly understand, they achieve greater success in the classroom.
---
See what people say about Mathnasium
---
"When we moved countries, my 8 year old son was not coping with his maths curriculum at his new school. It was a daily struggle to do homework and there were many tears. We started him at Mathnasium and have not looked back. He now loves maths, can participate in class and do his homework. More importantly, his confidence has improved which makes him happier at school.
The team at Mathnasium welcomed him with open arms. They are friendly, supportive and make maths fun, my son just loves going to his extra lessons. As a mom of 2 young children, I would recommend Mathnasium for all children even if they are doing well at school because Mathnasium teaches the children how to truly understand maths."
Leigh, Radlett
---
"My grandaughter has been going to Mathnasium for the past several weeks. She loves the environment, the teaching style, and the instructors. After the end of each class, she is ready and eager for her next lesson... A great result!"
Vivien, Radlett
---
"Since the day my daughter Elizabeth started at Mathnasium, she became hooked. I have never seen her so motivated to do extra work and every session she learns something new and comes out feeling positive and happy and also looks forward to her next visit. The instructors are friendly, motivating and this programme truly works and makes a difference."
Georgina, Radlett
---
"My son wen to bed tonight saying 'I love Maths'. The instructors are so lovely and he is desperate to stay for hours! A great place!"
Joanna, Radlett
---