Our Results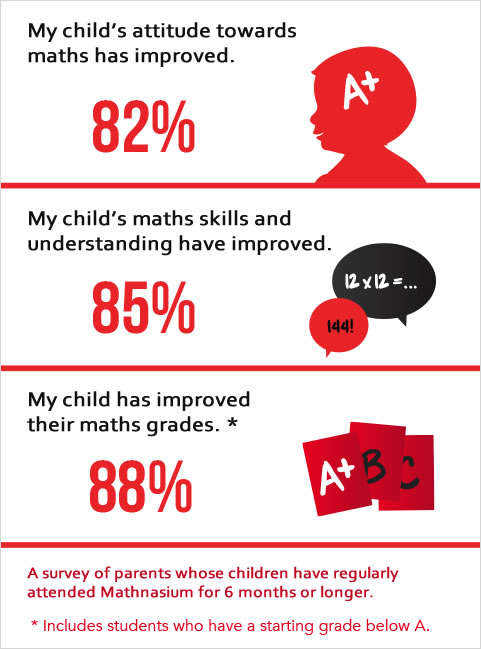 At Mathnasium, we help children understand maths by teaching the way that makes sense to them. Children who consistently attend sessions at our learning centres enjoy a transformative learning experience and make huge strides in the classroom.
Attitude: When maths makes sense, kids develop a more positive attitude toward maths.

Understanding: Mathnasium teaches for understanding, giving students the ability to succeed in any maths environment. As Larry Martinek, Mathnasium's Chief Instructional Officer notes, "It's pretty easy to forget things you memorise and near impossible to forget things you understand."

School Progress: When children learn maths in a way that they truly understand, they achieve greater success in the classroom.
---
See what people say about Mathnasium
At Mathnasium, we help children understand maths by teaching the way that makes sense to them. Children who consistently attend our learning centres enjoy a transformative learning experience and make huge strides in the classroom. Multiple independent studies carried out by EyeCues Education Systems* since 2004 have found Mathnasium to improve student performance on standards-based tests in 20 sessions or fewer.
Early days but our child Is enjoying it, and looks forward to going. Well done making maths fun. The membership is quite expensive but will be worth it if we can make enough of the sessions and our child improves his school grades, which we are confident he will.
March 23, 2019
Calming atmosphere and my daughter wants to come and do maths. Miracle.
March 14, 2019
My daughter has always enjoy attending her lessons at the center ! We are just too pleased that you have made Maths interesting and rewarding !
March 11, 2019
Greatly organized and stimulating place for kids. Maya is always motivated and asking to go which is the first step to success! Thanks to the Mathnasium team for that
Frequently Asked Questions
Can my child really become a natural mathematical thinker?
To become great at things like sports, music, and art, you need to be born with natural ability. What does it feel like to be "a natural" at something? It's empowering. It develops self-confidence. It makes you feel special.
It's commonly believed that you need to be born "a natural" to become great at maths. But at Mathnasium, we believe that virtually any child can become great at maths. For many kids, maths is something that doesn't come naturally, but they can be taught to think in the ways that the naturals do. When it comes to math, your child can feel empowered, self-confident, and special.
When you learn to think like a natural... you can become one!
How can Mathnasium change the ways in which my child thinks?
We teach our students to use efficient and reliable "schema"– organized ways of thinking – that are innate to the mathematically gifted among us. Mathnasium instructors deliver excellent instruction that is driven by our top-notch curriculum materials. These materials are carefully selected for students to encounter when the appropriate prerequisite knowledge is in place. Through this process, our students develop strong mental math and written computational skills, along with the reasoning ability to know which skills serve them best in any given situation.
Why is Mathnasium better for my child than an independent private tutor?
Mathnasium is structured as a learning center rather than a tutorial service. While a tutor helps students get through "tonight's homework," our primary role as a learning center is to uncover and directly address gaps in students' knowledge that are the underlying causes of their current difficulties in school. Since maths is a cumulative subject, it is extremely important to make sure that students have mastery of prerequisite knowledge from previous Years if they are going to have success in their current Year and beyond.
Do students truly enjoy coming to Mathnasium?
Mathnasium students enjoy attending their sessions, and parents frequently ask us to explain what we are doing to make that happen! While there are many contributing factors, the primary reason is that Mathnasium students are significantly gaining self-confidence due to their improving math abilities. Our students often feel relieved that maths really can make sense, and they feel empowered to reach new heights that never before seemed possible.
Hear What People Say About Mathnasium
"My son Charles had real problems with his Mathematical understanding and was struggling going into his GCSEs. With the help of the caring tutoring and the Mathnasium method, his confidence grew and he achieved his goals in his maths GCSE exams.
I would recommend Mathnasium to anyone, their method of teaching really works!"
Keith, Radlett, United Kingdom
---
"When we moved countries, my 8 year old son was not coping with his maths curriculum at his new school. It was a daily struggle to do homework and there were many tears. We started him at Mathnasium and have not looked back. He now loves maths, can participate in class and do his homework. More importantly, his confidence has improved which makes him happier at school.
The team at Mathnasium welcomed him with open arms. They are friendly, supportive and make maths fun, my son just loves going to his extra lessons. As a mum of 2 young children, I would recommend Mathnasium for all children even if they are doing well at school because Mathnasium teaches the children how to truly understand maths."
Leigh, Radlett, United Kingdom
---
"My grandaughter has been going to Mathnasium for the past several weeks. She loves the environment, the teaching style, and the instructors. After the end of each class, she is ready and eager for her next lesson... A great result!"
Vivien, Radlett, United Kingdom
---
"Since the day my daughter Elizabeth started at Mathnasium, she became hooked. I have never seen her so motivated to do extra work and every session she learns something new and comes out feeling positive and happy and also looks forward to her next visit. The instructors are friendly, motivating and this programme truly works and makes a difference."
Georgina, Radlett, United Kingdom
---
"My son went to bed tonight saying 'I love Maths'. The instructors are so lovely and he is desperate to stay for hours! A great place!"
Joanna, Radlett, United Kingdom